Download .NET Framework 4.5!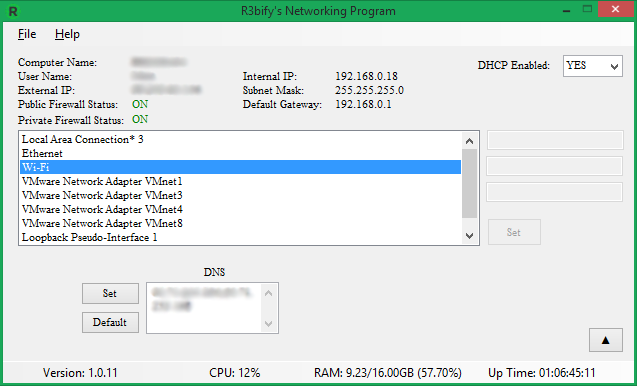 Networking shows your computername and username, your External IP address, and the status of your firewall. You'll notice a list of all of your network adapters. When you click on one, it will load up the Internal IP Address that has been assigned to it, as well as the subnet mask and gateway address. It will inform you if the address has been assigned by a DHCP server or not. If it has, it will allow you to enter custom values instead. The downward pointing arrow reveals advanced options, currently only DNS Server management. This program uses the registry to store your settings. They can be viewed at HKCU/Software/R3bify.info/Networking. This program requires administrator priviledges to accomplish certain tasks. It connects out to the internet for your external IP address, to check for updates, and to check the changelog.
Download .exe
or
Download .rar
Downloads: EXE: 1429, RAR: 1278.